Food Bank
The following items are needed in January to stock the shelves at Chagrin Falls Park Community Center:
Broths, canned chicken, small egg noodles (for soups), dried beans, Jiffy corn-bread mix, hot cereals.
---
Adult Education
Tish Harrison Warren – Liturgy of the Ordinary
On Sunday, January 6, the Adult Education class will begin a new book study.  We invite you to come for conversation about how to incorporate the spiritual practices of our church tradition into the ordinary and everyday.  The book is divided into eleven short, readable chapters and includes a question and discussion guide.  From the author's website:
In the overlooked moments and routines of our day, we can become aware of God's presence in surprising ways.  How do we embrace the sacred in the ordinary and the ordinary in the sacred?  Framed around one ordinary day, this book explores daily life through the lens of liturgy, small practices, and habits that form us.  Each chapter looks at something―making the bed, brushing her teeth, losing her keys―that the author does every day.  Drawing from the diversity of her life as a campus minister, Anglican priest, friend, wife, and mother, Tish Harrison Warren opens up a practical theology of the everyday.  Each activity is related to a spiritual practice as well as an aspect of our Sunday worship. Come and discover the holiness of your every day.
Adult Education meets in the church library on Sunday mornings from 9:30 – 10:15 a.m.
---
Save the date…
Heart of Valley Preschool will be having Bright Night
on Saturday, April 6th at 7:00 p.m.
---
80's Prom Benefiting Chagrin Falls Park Community Center
March 2, 7 p.m.
Announcing the 1st ever, totally rad 80's Prom Fundraiser benefiting Chagrin Falls Park Community Center.   Enter to win the Prom King & Queen contest, and jam out on the dance floor to some of your favorite songs from the 80's.
A group of us will be going!  See Lynn Fagerholm or contact the office; if you would like to attend.
---
Youth – Escape Room
Sunday, February 17
Nevada Desert, United States, May 25th, 2015
Imagine you are a team of scientists investigating an abandoned laboratory.  You have been tasked with finding the only known antidote to virus TS-51 before it gets passed into enemy hands… The kids will rely on their team, intellect and keen sense of observation to solve the riddles and unlock the secrets to find the antidote and to escape the facility. 
(This is a sample escape scenario.)
We will leave after Fellowship and go to Panera for lunch, then on to Escapology located at 7300 Palisades Parkway in Mentor.  We'll be back by about 4:00 p.m.
The cost is $10.00 per youth and bring money for lunch!
Bring a friend, and let Pastor John or Mrs. Wahl know if you are coming!
---
EDWINS Dinner
Tuesday, February 19
On Tuesday evening, February 19, we will be supporting the mission of EDWINS Restaurant in Shaker Square.  EDWINS Leadership and Restaurant was founded in 2007 with the belief that every human being, regardless of their past, has a right to a fair and equal future.  Their mission is to give formerly incarcerated adults a foundation in the culinary and hospitality industry while providing a support network necessary for their long-term success.  EDWINS website is:  https://edwinsrestaurant.org/.
We invite you to join us for dinner and to learn about the outreach of this wonderful organization.  You are welcome to invite friends.  A special menu has been created for us.
Place:
EDWINS Restaurant, 13101 Shaker Square, Cleveland, OH 44120
Time:
5:45 p.m. (if you would like to carpool from the church)
6:30 p.m. (if you would like to meet us there)
Cost:
$25.00 per person, payable to VPC
RSVP:
Please RSVP by Friday, 2/15, by calling the office or through signup genius at: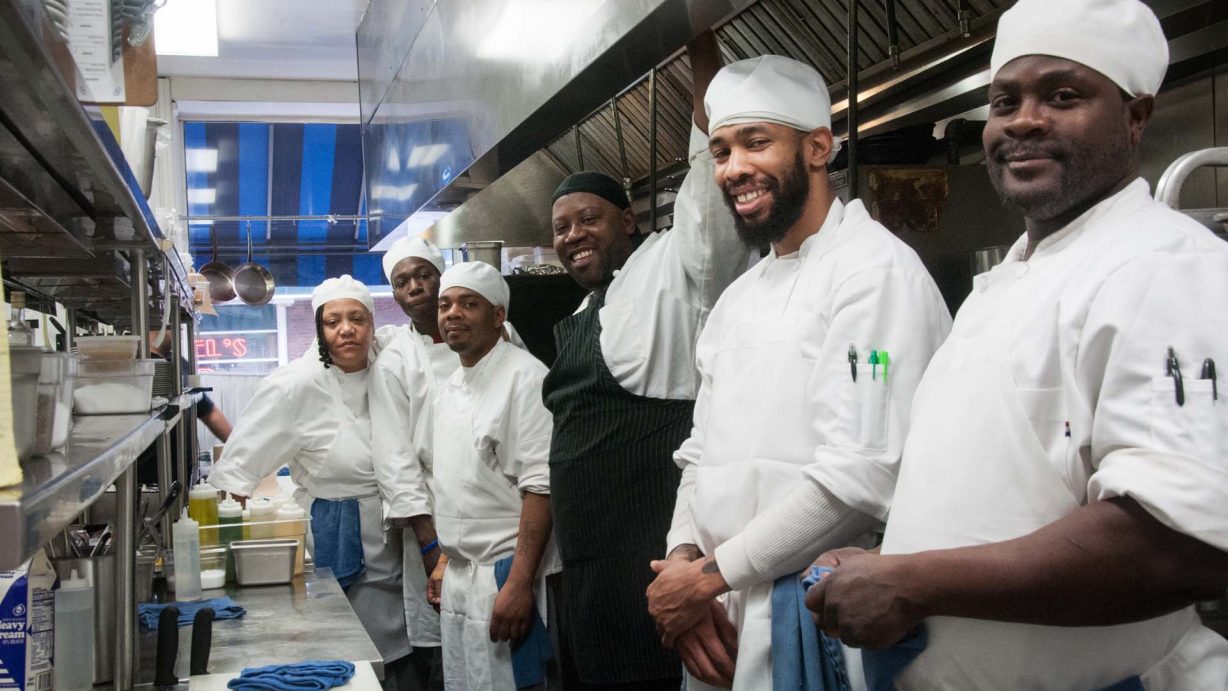 ---
Middle and High-School Youth Mission Trip
The Pittsburgh Project
Monday, July 1 – Friday, July 5
The Pittsburgh Project is a Christian non-profit community development organization with a thirty-two year history of service to the Pittsburgh area.  Each summer, groups come to help with home repair projects in local neighborhoods, creating opportunities to encounter the richness and diversity of God's kingdom through healthy connections with peers, neighbors and staff.
Campers stay in a converted school building in North Pittsburgh and work off-site each day.  In the evenings, there is worship and recreation led by summer staff.  All tools and building materials are provided.
This trip is available for any current 6th – 12th graders.  The cost is $125 per person (scholarship money is available).  Please contact Pastor John, if you are interested in attending.
---